Stone lifting is, in my hardly ever humble opinion, the second most badass thing you can do in the gym. The first being the one arm barbell snatch: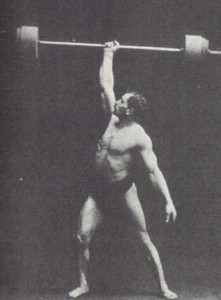 Lifting an atlas stone requires true total body strength from the prime movers of the glutes down to the strength of your fingers and hands to hold onto the stone. The day after a stone session, you will have no doubt about this claim.
And if you want to do man cardio, you can take a lighter stone and do rep after rep. This little challenge was far more fun, and far more taxing of the whole body (including cardio-respiratory system) than a 5 or 10 minute kettlebell snatch test.
Strong In Every Direction
An interesting tidbit from McGill's research that I was reminded of during Bret Contreras and Jon Fass' recent Strength of Evidence podcast is that trained strongman competitors used 146% of their "available" spinal flexion in a stone lift. Strongmen are able to use their back muscles to lock down the spine, despite it being in such a high degree of flexion, and keep it in a safe position throughout the lift, while the extension of the hips actually moved the stone.
What is the take-away for you? Stone lifting will make your back stronger, all the way through a greater range of motion than perhaps any other exercise. Contrary to what the neutral-spine hysterics will lead you to believe, the spine is designed to flex and extend so it would behoove you to be strong in every available position.
A Quick Tip
Assuming you have access to atlas stones, and that you're past beginner level stone lifting, I would encourage you to do some training using tacky. If the place you lift doesn't allow tacky, find somewhere that does for an occasional workout. I did not do this until recently, and I wish I had done it a long time ago.
Ignore foolish critics who compare tacky (or belts) to cheating. Nearly every contest will allow tacky, for good reason. Like using a weightlifting belt, tacky will allow you to lift overall heavier loads that will ultimately make you stronger.
Don't Have Stones?
The Flat Disc Deadlift, a movement I adopted from British grip strength phenom David Horne, is will prepare you to lift heavy loads in a position almost identical to a stone load, but without involving your grip as a limiting factor.
To setup a Flat Disc Deadlift, drop a couple 2.5lb plates on to a loading pin, followed by several 45lb plates, and finally a collar. You'll notice the small plates give you a little gap between the big plates and the floor. Even still, be careful with your fingers and work within your limits.
To perform the lift, setup in a slightly wider than normal deadlift stance with the plate stack in front of you between your feet. Using straight arms, hook your fingertips under the stack of plates. Your back will be rounded in this position, and that's expected for stone lifting, fear not. At this point, treat it like a Romanian Deadlift, and lift the weight off the floor. A good lift in the Flat Disc Deadlift is the bottom of the stack to about the knees.
P.S. If you're local to Minneapolis, Minnesota I can refer you to a great source for custom made Atlas stones at incredibly reasonable prices. Email me.