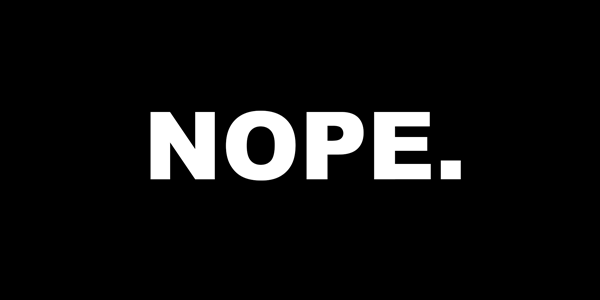 Doing things, taking action, moving forward is important if you want to accomplish and create things, no doubt about it. And I think it's worthwhile and important to talk about all the things that might hold someone back like fear of failure, not knowing where to start, or not knowing what steps to take.
But what about the other side of the coin?
What about not doing things?
Everyone has things they find themselves having to do that don't feel worth it, maybe don't feel ethical, or are actually making you worse.
What if you just… didn't?
Job makes you produce a lot of TPS reports?
What if you didn't?
School making you learn something you know is whitewashed ethnocentric​ bullshit?
What if you didn't?
Gym makes you do a part of the programming you know will leave you hurting?
What if you didn't?
Certainly not doing some things has a greater cost than others. Maybe if you don't produce all your TPS reports on time you'll lose your job. Then again, maybe you won't and the value of those reports will be questioned and you'll be a catalyst for change.
But often times not doing one thing is what you have to do to make room for doing something else. Quitting and not doing things never gets any of the glory though. Nobody makes memes about not persevering.
Personally I think what you don't do might be, in some ways, more important than what you do.
It might be worth thinking about what if you just… didn't?