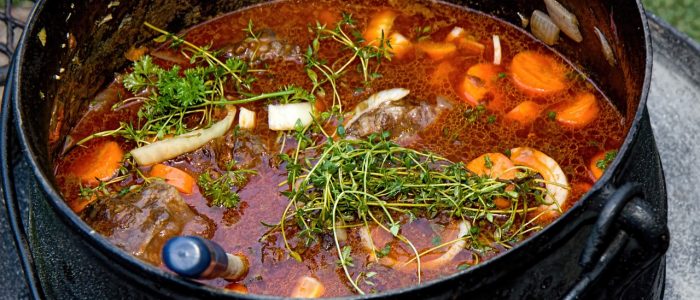 If you don't have a dutch oven, you're messing up.
Let me back up for a minute to some fundamentals of cooking that are important to understand, and most people don't realize form the basis of all cooking.
There are really only about three ways to cook a protein (or anything for that matter). You can roast, braise, or grill it. Most people are familiar with grilling and roasting, but braising seems complicated and out of reach.
But it shouldn't be, because it's simple and almost idiot proof. Once you understand it, it's actually one of the most simple and effective cooking methods there is, and a dutch oven is one of the best ways to do it.
You can very easily ruin a steak on the grill, and everyone has probably experienced dry, inedible turkey. Braising on the other hand, thanks to the use of liquid and steam is much more forgiving and almost inevitably results in tender, tasty meat.
Plus, the versatility of a dutch oven is unparalleled. You can cook stews, braise meat, bake bread, make desserts, or even use it to fry or sauté. If you were only going to have one single cooking vessel, a dutch oven would be what you'd want to have.
As an aside, many people don't realize that slow cookers are essentially the same cooking method as a dutch oven, although not quite as versatile. I wouldn't want a slow cooker as my only cooking vessel.
To get you started on dutch oven cooking I asked two of my friends, whom I was having a conversation on the wonders of dutch oven with, to provide their favorite recipes.
From my friend Jahed Momand, general purpose genius and product designer:
Here's a basic template or pattern that you can tweak and vary, but can't go wrong with.
1) Brown your meat, any good roasting meat in olive oil or coconut oil.
2) Remove the meat, add some chopped onions and garlic. Add celery if you want more of that southern stew taste. Sauté for 12-15 mins, until soft and brown.
3) Buy some of those extremely cheap chilis at the store. I recommend New Mexican, Anaheim, or if you are trying to burn your shit up, African Birds Eye. Layer them on top of the aromatic base.
4) Add your meat back on top of the aromatic base.
5) Add a can of crushed tomatoes (editor's note, I prefer to buy whole peeled tomatoes and then hit them in the blender real quick) with water, 2-3 cups of lager or pilsner (e.g. Miller High Life) beer, 2 tbsp cumin, 1tsp salt, 2 bay leaves. Bring up the total volume to about 1-1.5 inches up the side of the meat.
6) Preheat your oven to ~300-325º. Put your dutch oven open into the oven. After 30 mins, flip the meat over (e.g. country ribs, chuck roast, etc. some meats dont make sense to flip, like chunked beef heart). Check to make sure the fluid level is still 1-1.5 inches up the side of the meat. Top it up with more beer or water. You want to keep everything else relatively submerged so it doesn't burn.
7) Braise for 3.5-4 hours depending on the meat. Tougher cuts may take longer. You're done when the meat falls apart when you stick a fork in ite.
8) Remove the dutch oven from the oven, and take the meat out. Pour the remains into a blender and puree. Use that as a sauce to dip the meat in, or for tacos, or for your eggs, or any other thing you might wanna try. I just used them on my eggs this morning, and I use 5 african birds eye chilis, and 8 new mexico peppers, and 1 pasilla pepper.
Basic ingredients list:
2-4 lbs of some kind of meat
1 14.5 can of crushed or whole tomatoes
2 tbsp cumin
1 tsp salt or to taste
2 bay leaves
A good quality cooking oil, like refined coconut oil, not vegetable oil.
1 medium onion
A whole head of garlic
1-2 cans of miller high life or equivalent
8 chilis, destemmed and deseeded (New Mexican, African Birds Eye, Japanese, Guajillo, etc)
Optional: 1 pasilla oaxaca pepper for smokiness
For Dessert:
From my friend JT Matherly, whom I have come to find is one of the finest cooks I've ever known:
Two favorite recipes from my late mother. The pie crust is my adaptation of a recipe given to her by an old family friend. Chess pies are common in the south but not well known in the rest of the country, which is really a shame as they are simple to make and delicious. It's somewhat like a stiffer version of a custard, or a cheesecake, and not one bit less rich than either.
Pie crust — yields two 9″ single-crust pies or one 9″ double-crust pies.
Ingredients:
16 ounces (4 cups) all-purpose or pastry flour
Sifted:
2 tsp salt
1 tbsp sugar
10 ounces (1 and 1/4 cups) expeller-pressed coconut oil, room temperature, OR 10 oz cold leaf lard
Approximately 2 cups of ice water
Directions:
Mix all dry ingredients thoroughly and cut fat in with a pastry cutter, forks, knives, or whatever method you prefer. Do not blend completely, leave some small pea-sized bits of fat in the dough. Add a bit of ice water at a time until the dough comes together, it should be somewhat moist (but not wet), very pliable, and not crack when rolled out. Experience is the best teacher here. Roll crusts out and form pie shells immediately. Pre-formed single crust shells can be refrigerated (covered) for a day or two or frozen indefinitely if sealed. I do not recommend chilling the dough without forming it into a shell first, as it becomes too stiff to work with when chilled. While pastured leaf lard may be used in place of the coconut oil, I do not recommend shelf-stabilized lard, as it is highly processed and often contains trans fat.
Lemon Chess Pie
Adapted from the Doubleday Cookbook, 1975.
Ingredients:
1 1/2 cups sugar
3 tablespoons flour Juice and zest from 2 large lemons
1/2 cup butter, melted
5 eggs
Preheat oven to 350 F. Combine all ingredients and mix thoroughly, place in an unbaked pie shell and bake for 45 – 60 minutes or until the filling has puffed up and is golden brown (it will deflate once removed from the oven and cooled). Cool completely, slice and serve. A good variation on this is substituting vanilla bean guts for the zest and bourbon for the lemon juice.