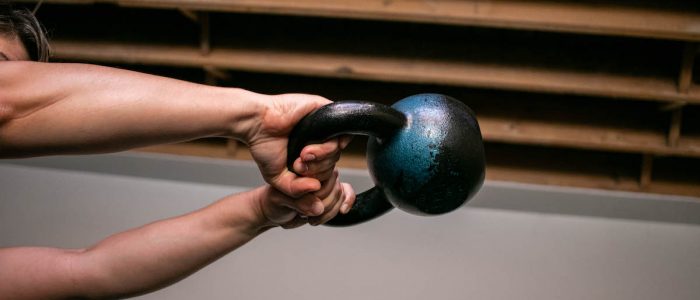 The other day I noticed I was tagged into a Facebook "debate" about the efficacy or value of staggering your stance in a kettlebell swing. Now years ago I might have actually engaged in this debate. Now I mostly just roll my eyes, for the reasons I talked about here.
But, it can be instructive to look at some of the positions folks staked out in the thread, and why they're so silly.
– "I like to use tools for what they're appropriate for, so I do stagger stance with sandbags, but not with kettlbells."
This is one of those absurdly arbitrary distinctions with no basis in reality. Tools certainly alter movements, and in fact tools are one of the five major things you should be testing in your training (I cover all of them in my free ecourse), but tools don't dictate the movement. There isn't a set of movements for the sandbag, and a set of movements for the kettlebell. This is a stupid​ position to take.
– "Too much risk for injury. I won't use them unless there is proven benefit."
OK, I'll play. Proven by whom? Proven FOR whom? Proven to what standard? Proven under what conditions? Proven in what environment? What benefit is proven? What costs are there to that benefit? What is the injury risk? What appropriate alternatives are there and what are their risks? What are drawbacks to using those alternatives instead?
You see already how flawed and facile this logic is?
– "Staggering might be fine for targeting an imbalance, but ballistics are inappropriate when there is an imbalance in the first place."
Really, why? Ballistic movements aren't special. They're movements that are different in degree rather than kind to similar non-ballistic movements. So if a staggered stance is useful in a deadlift, it's equally useful in a ballistic. Further, a ballistic movement isn't necessarily more stressful than it's non-ballistic counterpart depending on the load. I'd often feel more comfortable handing a client a 16kg bell to do a swing than a 32kg bell to do a deadlift. It just depends.
– "It's too awkward to do a hip hinge with a staggered stance?"
Really? Do these people exist in the real world, watch or play any sports, or actually work with clients whose bodies don't exist in textbooks?
For most people doing a SYMMETRICAL stance hip hinge more awkward than staggering!
This thread was full of classic examples of people regurgitating the dogma they were taught at seminars they paid too much money for without giving real critical thought as how those ideas integrate, or don't integrate, with the rest of what they know and have experienced.
Breaking out of the "only one way is the correct way" mindset is crucial to your progress. (Literally and metaphorically.)