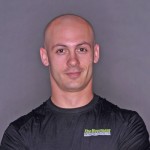 Depending on how long you've been paying attention to me and my training, you may or may not know that I train in a very unconventional way. I don't use programs, and I completely eschew effort in my training. This wouldn't be very interesting – lots of people do foolish things just to be different – except for the fact that myself and my clients make unbelievable progress. Inevitably, this leads to people asking how they can learn more about how I train, a system we call Gym Movement. Until now, piecing together the clues you needed to unlock this system was like the treasure hunt in the Nicholas Cage movie National Treasure. Since the fantastic DVD product I helped release with Adam T. Glass several years ago (which is no longer available for sale), no new guide or tutorial  on this innovative training method has been released.
With a busy gym to run, and a bunch of personal clients both online and local I simply don't have the time to produce and market a product right now. But this information, this system and way of training needs to be shared. I've created a 6-week eCourse that is completely free and will completely change the way you train forever. If you're prepared to have your world turned upside down, of course.
This is your opportunity to take the road less traveled. If you have ever questioned the reality of your current training, ever wondered if maybe things were more complicated than they needed to be, this is your chance. I'll give you new information and I'll ask you to question everything, including me. I will probably give you even more questions than answers. When the course is over, you will have been given information I normally charge people $1000 to teach to them. You will have everything you need to lead yourself and the power to know you can.