Walk into any GNC or nutrition store (which is in itself sort of ironic in that they don't sell any actual foods, the best source of actual nutrition) and you'll find a bright-eyed reasonably muscled twenty year old standing in front of a wall of pills, powders, and potions happy to tell you what supplements you're totally missing to actually get results from working out.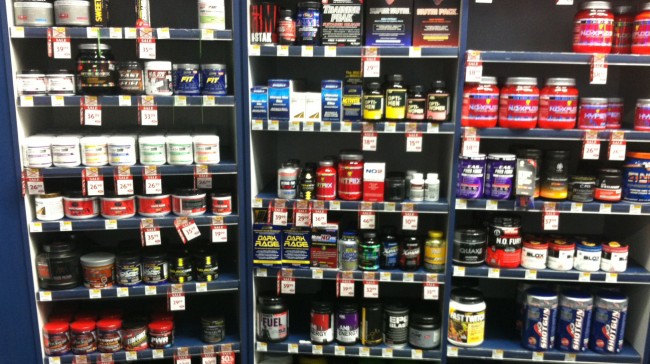 By and large none of these do anything worthwhile.
But there is one supplement that is so overwhelmingly positive that I think every man, and some women depending on a caveat I will mention later, should be taking it.
That supplement is creatine. It is likely the most studied sports supplement on the planet, and is not in any way shape or form a steroid. Creatine is a naturally occurring organic acid that is synthesized from amino acids in the kidney and liver. Creatine is, at the risk of over-simplifying, used in the formation of ATP which is the actual energy source your muscles use directly to contract.
Creatine is not an essential nutrient, although you likely get a sufficient amount of it if you eat a balanced diet including animal protein, because it can be synthesized from L-arginine, glycine, and L-methionine. That being said low levels of supplementation, on the order of the typical dose of 5g/day, have shown numerous positive effects that indicate that dietary and intrinsically produced amounts are not sufficient to gain as much benefit as you can get from supplementation.
While creatine doesn't make you magically gain muscle, in concert with a strength program you can improve your gains by a measurable margin. A 2012 review in the Journal of Strength and Conditioning Research of almost a hundred papers concluded that creatine supplementation effectively amplifies the effects of strength training for strength and hypertrophy, improves quality and benefit of of high intensity speed training, improves aerobic endurance performance in trials lasting more than 150 seconds, seems to produce positive effects on strength, fat free mass, daily living performance and function in young and older people, demonstrates a long-term up regulation of gene expression when creatine is administered together with resistance training and basically makes you a sexier beast as long as you actually lift when you take it.
In 140 characters or less: you can get a little more work or volume out of every training session.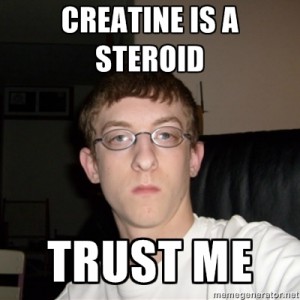 In terms of fat loss, NY Times Bestselling Author John Romaniello says: "People often avoid creatine while they're dieting because they believe it's a muscle building supplement only and it'll prevent them from losing weight. This is true in an obtuse way, where only the weight on the scale matters. It's true that creatine might prevent you from having that "boner-inducing" experience of losing 10 pounds in the first week because you drop so much water weight. But I don't care about water weight, I care about my clients losing fat. Creatine helps in a number of ways with this: The first of these are obvious in that it allows you to perform better in strength training. However, a secondary benefit is that it helps in the retention of lean body mass under a caloric deficit."
In terms of sport and athletic performance the data so far is astonishingly conclusive: creatine works and it works well.
But that's not even the biggest reason I think you should take it.
A growing body of evidence is showing that creatine may have as many benefits for brain function as it does for skeletal muscle. For example, an Australian study using vegetarians (they tend to have lower creatine levels and as a result provide better test subjects – yes, you might be getting enough for these effects from eating meat) showed that in a working memory test people taking creatine were able to recall an average of 8.5 numbers compared to 7 for those taking a placebo. The groups were flipped after , washed out for 6 weeks, and then tested again and the effect persisted.
For those athletes playing contact sports that lead to inevitable concussions, a 2000 study showed that creatine may have neuro-protective effects in the case of traumatic brain injuries to the tune of 36% in mice and 50% in rats.
All of these benefits come at an exceptionally low cost. The European Food Safety Authority, which is significantly more stringent than United States regulators when it comes to food additives and supplements, published a memorandum stating that long-term intake of creatine at 3g per day is risk-free. While I don't necessarily believe that anything is inherently risk-free, these are strong words from an authority with extremely high standards for safety and evidence.
The biggest risk from creatine seems to be in that it sucks a little more water into working muscle and may affect hydration in high heat – but this is easily mitigated by maintaining good hydration.
You get all of this for under two pennies per day. Creatine monohydrate, the only kind you need, is one of the cheapest supplements out there. From True Protein you can buy 500g in bulk, roughly a 3-month supply, for $7.45. (Or a kilo from Amazon for $19 and free shipping with Prime.) You can buy even more and get it even cheaper, or drop the dose to 3g/day and stretch it even further to under a penny a day. Especially relative to the amount of benefit you can't find a better deal.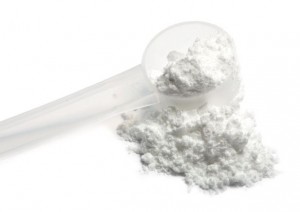 I mentioned a caveat with regards to women. The main issue is that due to creatine causing an increase in water retention some women may feel "bloated" or that creatine causes them to look puffy. This is an individual thing in both effect size and reaction to it, so the best thing to do is just to try it out and see if it works for you. If it doesn't, simply discontinue taking it and you'll return to your normal physiological levels of intramuscular creatine in a few days.
None of this is to say that it is impossible that some body of evidence in the future won't reveal some unknown and long-term non-linear effects. Anything is possible. But as the evidence stands right now, creatine appears to be both the safest and most effective, both in terms of sports performance and other cognitive and neurological benefits, supplement available. And it's pretty damn close to free.
In a world full of junk supplements, creatine is a shining beacon of truth and light. I strongly recommend testing it out and reviewing your training logs to see if you notice a bump in performance. If you use a cognitive training service like Lumosity you may be able to track the cognitive benefits there, although I would argue that the benefits are on the order of long-term small percentages that matter but may not be measurable. Either way, I think creatine is a solid "why would you not" supplement.