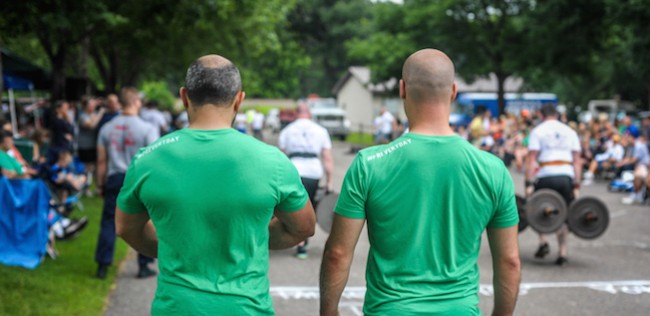 Good training partners are perhaps the most underestimated piece of the training equation. You can have all of the best possible equipment, the ultimate training plan, and all the potent gains-inducing supplements in the world and you're still going to miss out on a host of benefits that good training partners provide. For some people the training partner is the lynchpin, because without one, they won't show up to train at all.
Here's how you can be a great training partner:
 1. Show Up
A training partner who cancels or doesn't show up to train is worse than not having one at all. At least if you're used to flying solo you're not doing anything different than usual, but when you're expecting a partner it is totally demotivating to have them skip their workout and have to do it on your lonesome. Being someone's training partner is a duty you accept and you have responsibilities that go with that. Show up.
2. Know When to Encourage and When to STFU
A good training partner is not an incessant cheerleader constantly hyping you up and telling you that you can do it no matter what. Sometimes some encouragement and hype is appropriate. Sometimes it's best to shut the fuck up and let someone focus on what they're doing. Know when to do each and pay attention to social cues.
3. Challenge by Asking
One of the most powerful phrases you can use is "Can I do that?" This simple question has transformed the training of many people. But almost as powerful is "Can you do that?" The best training partner I ever had was someone who had such an intimate knowledge of the spectrum of difficulty in strength feats that he was always able to ask "can you do that?" of the next progression I was capable, or almost capable of. This drove my training forward in a way that I've never before or since experienced. Challenging your training partners to perform new feats or reach new PRs by asking the question of them is one of the very best ways a partner can improve the training environment.
4. Leave Your Partner Better
This one is a little nebulous and vague, but stay with me. Ultimately your goal needs to be that when your training partner(s) leave the gym they are better than when they came, and not just from the strength session. If they leave burdened with or annoyed by your life problems that you foisted onto them during the training session, well, you screwed up. That's not to say you can't hash out issues during your lift, just make sure you're respectful about it and that they leave better because they were able to help or because you canned it before things got out of control. Another example would be when training partners have major discrepancies in strength levels. You don't have to be at the same level of strength or ability, but you don't get to gloat about it or be a dick – everyone has to leave better. Manners go a long way in this department, such as pick up after yourself  and not leaving it to your partner. Offer words of encouragement or praise, make them feel better.
"I've learned that people will forget what you said, people will forget what you did, but people will never forget how you made them feel." -Maya Angelou
The Gift That Keeps on Giving
Training partners can make or break your training. Do your part to be a great training partner and you'll reap the benefits many times over.