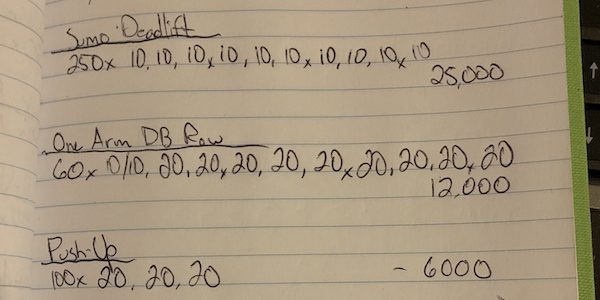 One of the simplest and most effective things you can do to improve the success of your training is to keep a journal or notebook. Unless you have nothing in your life going on other than training, it's almost impossible to remember what you do in a session from one training session to the next, much less when a week or month goes by. Did you do three sets, or four? Was it 50lbs, or 55lbs? What if something is "off" one day, how can you remember if it's a pattern or a random fluke?
If you've ever seen the movie Free Solo you'll know what I'm talking about, but in it the filmmaker does a great job of dispelling the idea that Alex Honnold is just a crazy thrill seeker. His training journal plays a prominent role of demonstrating how intricately Honnold prepared for the climb, taking detailed notes on every section of the route. At one point his climbing buddy asks if he ever writes down non-climbing notes like, "I saw the biggest Juniper tree" or "I miss my girlfriend" and Alex responds, emotionless, "No, no, no."
It's been my experience as a coach that two things stop most people from keeping a training journal: they don't know what the value is, and they don't know how to keep one that makes it useful.
The value of a training journal is to have an accurate accounting of what you did, as well as a way to write notes to future you, so that you know what to do in the future. For example it's good to know what weight you lifted last week on a particular exercise, but it's even better to know that with the benefit of having just done it you could assess that it was too easy, or too hard. That gives you guidance for the next week to up the weight or to drop it down a bit.  This is a blunt and obvious example, but the more you take ownership of and start paying attention to your training the more you'll get out of taking notes.
Over time you may develop your own system, but use mine as a starting point. Here's a couple examples and then I'll talk about the parts: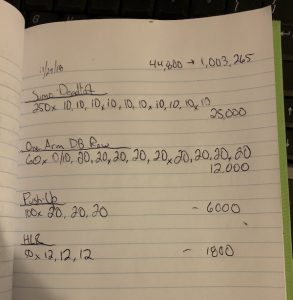 Deadlift
355 x 3, 3, 4, 3, 3   10:31
Kettlebell Press
24kg x 6/6, 7/6, 6/6     5:55
My format is always the same. I write down the movement, then the weight, then each set followed by a comma. I don't always do the same number of reps each set, and then in the future I can easily see if for example my first few sets are better than the first few sets of a previous workout. If it's a unilateral exercise, I write each side separately because those aren't always identical either. Finally, I log the total time including rest.
In addition, I might scrawl some notes about what felt especially notable or different on that day – something that might be useful in the future to guide me or explain why some numbers were "off". The beauty of the simplicity, quickness, and unstructured format of a pen and paper makes it easy to leave yourself free-form notes to future you.
If you've never kept a training log before, start. Do it diligently for six to eight weeks. When you do that, and you review your progress over the previous two months or so, you'll find that you've made the best progress you've made in a long time – if not ever.