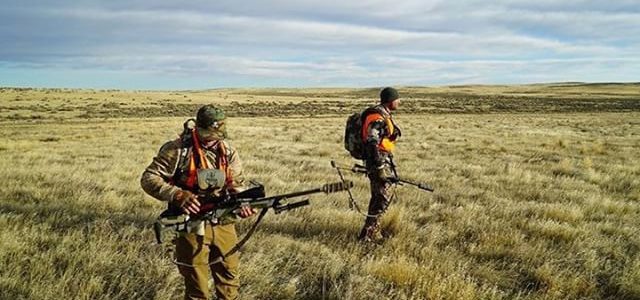 Today's article is a guest article, in the form of a follow-up to a piece I ran several months ago about wild game hunting by my good friend, Aron Woolman. People loved that piece, so when Aron offered to do a follow-up I took him right up on it. Through a fluke of my own sometimes crippling procrastination, I ran the original piece literally years after he had written it for me. The benefit is that Aron has had quite a bit of time to grow and reflect since then. Enjoy.
I felt honored when I opened David's email and read the guest post, which had not only been written years ago, but had been lost from memory. David tells me that many of you enjoyed reading it, which is truly flattering. I enjoyed re-reading it as well, which gave me reason to reflect on how my thoughts and opinions have changed since that post was written roughly four years ago. I'm hoping that you'll enjoy these thoughts even more than the first post. Let's go a little deeper down the rabbit hole.
Let's start with the most obvious change. I'm a trophy hunter now. Kind of. Just not in the way you think. Let me explain.
It starts with the process of maturation
As my interest in hunting grew, I also grew and matured as a hunter. My understanding of how animals interact with their environments deepened. Whether I was out on the hunting property that we lease, or simply hiking through the woods, I had become significantly more aware of my environment. Spotting things that I may have easily overlooked before had now become second nature: tracks, scat, scrape marks from bucks rubbing their antlers on trees, bedding sites, broken branches on trees and shrubs, and much more. It sounds might sound cliché to say that hunting connects you to nature, but it's true.
I also became much more patient when choosing to harvest a game animal. The first time I hunted, I was nervous and excited and eager to bring home meat. Now I am calm, patient, observant, and evaluative. This often means passing up easy opportunity to ensure that I harvest the right animal – an older animal who isn't raising young and who doesn't have as much opportunity for productive reproduction. Or maybe an animal that might not make it through the next winter.
As these changes were taking place, I started to yearn for new hunting experiences, and had heard from many people that hunting elk in the Rockies was an unparalleled experience. I planned my first archery elk hunt in Colorado, and although it was unsuccessful in terms of harvest, it was a religious experience. The high pitch, coarse bugles from mature bulls in the high Rocky Mountain forests is soul stirring. Watching a 750 pound bull silently emerge from the trees is impressive. Watching him bugle and shake branches with his massive antlers is spiritual. When you're within 100 yards of him, it feels like he's right next to you. There are no words and no video that could ever come close to replicating it.
As Doc Brown said, "Where we're going, there are no roads."
What makes the experience even sweeter is that you have to earn it. You have to get your ass into the mountains. Even if you drive to a start point, you're likely to have to cover many miles, for many days, hiking up and down mountainous terrain, to earn the chance to get close to the elk. My first elk hunt was unsuccessful, but it was an amazing experience. And it was hard. The mornings were cold. We hiked an average of 8 miles per day for 6 days, moving between 8 thousand and 11 thousand feet above sea level. It was hard but it was awesome. Literally.
The next year I had the opportunity to hunt a bull in Colorado again. The terrain wasn't as rugged, but that meant that cover was harder to find. We covered a lot of ground every day and spent nights in a late 1800's stone farmhouse. Clear skies meant a nightly clear view of the Milky Way, which for me has the very zen effect of reminding me just how insignificant I am in the universe. It was a time of deep reflection and introspection.
One evening we saw part of a herd coming down from the timberline, and set up on where we thought they would come. We were right, and just before sunset I shot my first bull. It was a good, clean shot. He went 30 yards and dropped. We let him expire and then set to work on gutting him and getting him ready to pack out. A rancher had heard our shot and came over to see what we had harvested. He was in a farm truck with a hydraulic lift meant for hay, and offered to load up our elk and drive us back to our truck, about 6 miles away. He turned what would have been many hours of work and walking into something much easier and shorter. It won't always be like that.
Up until this point, I had never been interested in trophies or trophy hunting, which I would define as hunting with the goal of getting a taxidermist's work up on the wall. The idea of a trophy to me seemed to speak to a conquest over an animal or nature, and that is exactly the opposite of what drove me to hunt. Hunting is still very much about connecting with nature on a deeper level.
The experience of harvesting that bull was a significant accomplishment. As we spent time cleaning and field dressing him, I knew that his trophy would be an additional way for me to continue to show my respect for the bull.
My core beliefs about hunting have not changed, but I now understand that trophies can act as physical cues for the involuntary recall of memories which remind me of fascinating time spent outdoors and in nature.
I decided to bring the bull to the taxidermist. He's nothing for the record books, but I knew I would want to honor this bull by giving him a place of respect in my home, as well as giving me a lasting physical momento of the hunt.
Let me be clear that I still see no honor in hunting ONLY for the purpose of taking a trophy. To me, that act is incongruous with showing respect for a harvested animal. The respect for the animals we hunt is still the most important aspect of hunting. With every bite it reminds us to be grateful for our food, and reminds us of the fragile nature of life. Trophy hunting, which infers giving away the meat from an animal, or wantonly wasting it's flesh, is to flippantly disregard the sacrifice which was made, and the life that was taken.
Whenever I am in our library, or simply walking by it, seeing the trophy of that bull instantly floods my memory with vivid details of not only that hunt, but of all of my mountain hunts. It is shocking to so clearly remember fine details about scents from the air and vivid mental pictures of landscapes and animals. It reminds me of moments of triumph and death, working with friends and sharing meals with family. The trophy is quite literally a physical link to powerful, emotional memories and experiences.
I get it now. I'm a trophy hunter.
What else has changed? I'm intolerant of vegans.
They're wrong, and they're hypocrites. Plain and simple.
When I started hunting, my feeling was don't judge me and I won't judge you. Let's all just respect each other's beliefs. And while I can certainly respect the desire to not harm animals, and wholeheartedly respect and dare I say admire anyone who is giving thought to the food they put in their bodies and where that food comes from, vegans have missed the mark.
Earlier I spoke about how hunting is all about connecting with nature on a deeper level. To me, this means seeing nature as a system, where all of the individual pieces of that system interact and affect each other. It's impossible for anyone to understand the entire system as a whole – how a change in one part of the system might affect a seemingly completely unrelated other part. But it's easy to see that the system works to balance itself, and that as much as we try, we can't outsmart or outmaneuver nature. For this reason, nature loves diversity.
Veganism is, in my opinion, working against nature's diversity. Vegan products purchased from any large scale supermarket or grocery store supports the industrial agriculture system that vegans seek to dismantle.  
Soy, mushroom, corn, or other plant based processed foods readily available at grocery stores in uniform sizes and product consistency require large swaths of mono-cultured farmland to produce their inputs. The same holds true for lots of other produce, like leafy greens and a variety of root vegetables. The fields that grow these foods are on a simple cycle – fertilize, plant, grow, harvest. Without the fertilizer, the productive yields from these fields would drop. Where does the fertilizer come from? Industrial livestock facilities. The shit ponds from CAFOs – Concentrated Animal Feeding Operations – are convenient sources of fertilizer. Mass produced vegetables depend on the industrial livestock system. That McDonald's cheeseburger that the vegan disavows? The vegan veggie burger is no holier. Those burgers are directly connected through a river of shit.
Vegan products purchased from local, sustainable agriculture systems require the use of livestock or wildlife to keep the system sustainable. Keeping a healthy population of livestock requires that we cull the herd to manage it. It would be a waste not to consume these animals.
Good hunting land, much like traditional small farms, don't need fertilizer. The ranch that our butcher shop buys it's beef from hasn't used fertilizer, pesticide, or herbicide in 15 years. It's not an accident. It has taken hard work, planning, and an understanding of how to properly graze animals and grow produce in harmony. The results are astounding. The carbon content of the soil INCREASES each year. The water that leaves the farm is cleaner than the water that enters. The soil is becoming more productive, AND it is literally sucking carbon from the air and putting it back in the ground. All of this is due to the relationship that animals have with the pastureland upon which they subsist. The result also happens to be some of the best damn beef you will ever eat.
Listen, I get it.
We can't only subsist on hunted or locally raised meat. We aren't only going to buy produce from polyculture farms that are managing and balancing livestock and crop fields. It's not practical, even though canning seems to be enjoying a resurgence in popularity.  But it's also not practical for us to dismiss the crucial role livestock and game animals play in the system that is our environment. To hunt means to actively participate in that system. I can think of no calling that is more respectful to ourselves and the world around us.