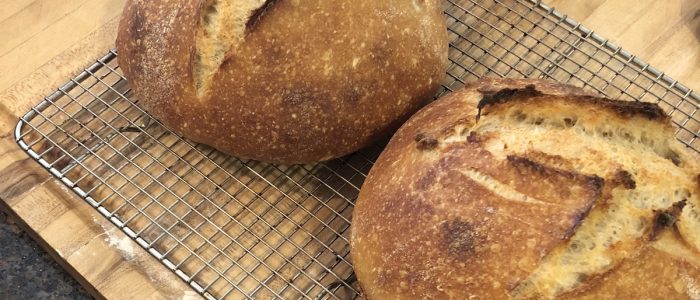 ​I started baking bread over the holidays. Growing up I don't even know that I was aware you could buy bread, because we never had anything in our house other than fresh bread my mom baked every couple weeks. In the winter, she'd tweak her recipe a little bit and make julekake​ which is a Norwegian bread that is slightly sweeter and has candied fruit in it, which is weird because we have zero point zero Norwegian heritage in our family, but I digress.
I had watched Michael Pollan's incredible Cooked series for the third or fourth time, and I decided I was finally going to undertake sourdough bread baking. That entire series is fantastic by the way, if you haven't seen it. My good friend the gentleman butcher and guest writer of the recent hunting article, Aron, is a co-owner of the butcher shop featured in the Fire episode. Anyway, I digress again.
So for the past week it's been sourdough starters and flour explosions in the kitchen almost every day. And I'll tell you what it's damn good bread already, even if there is room for improvement. Easily better than anything you could buy at the store.
If it seems weird that a fitness guy would be so hype on bread, I'd like you to consider the following:
One of my overarching nutrition principles for figuring out what is best for you is to look at your genetic heritage AND your environmental circumstances for the previous generation or two. Lots of bread in both those for me.
Next, I think it's important to look at what historically has been an important staple. Aside from eastern and southeastern parts of Asia, it's pretty difficult to find a place or time in human history where bread hasn't been an absolutely critical component of sustenance. It's literally called the staff of life because it's so important.
You can tell me that we're all gluten intolerant now and we have wheat brain, but I'll tell you that for some five thousand plus years humans have been thriving on bread so the logical conclusion is not that bread is bad but as they say YOUR bread is bad.
Modern commercial bread is a monoculture that suffers from the same deficiencies that monoculture organics like plants suffer from.
Did you know that the banana, as we know it, is probably going extinct? Because we thought it would be a good idea to reduce and control the variability in the organism down to what is now an unsurvivable species. But I digress, again.
The first iterations of modern bread were so devoid of nutrition that they actually made people sick on an epidemiological scale. Hence the advent of fortified and enriched bread – with nutrients added back in. Keep in mind this was supposed to be an "improvement" over technology that provided sustenance for over five thousand years, and it required spackle to fix the problem that the improvement created.
Bread can be a major source of calcium, but most modern bread is completely devoid of it. Chances are you're not getting enough calcium as it.
So, bread produced in the old way using wild yeast and however much time is necessary for the process to complete without adulteration passes my second test.
Ultimately having passed two of the other principle tests the most important test is how does this actually work for me? I can't point to any noteworthy ill effects when I eat bread, so it definitely passes.
Beyond the nutrition side of things, this is another way to develop a useful skill that further improves my family's autonomy – which is never, ever a bad thing. People think making bread is hard and complicated, and it's really not, just follow the steps. But that's another topic for another day.
So that's what I've been up to. If you're interested in pursuing sourdough bread, I found this post very helpful as a starting point.