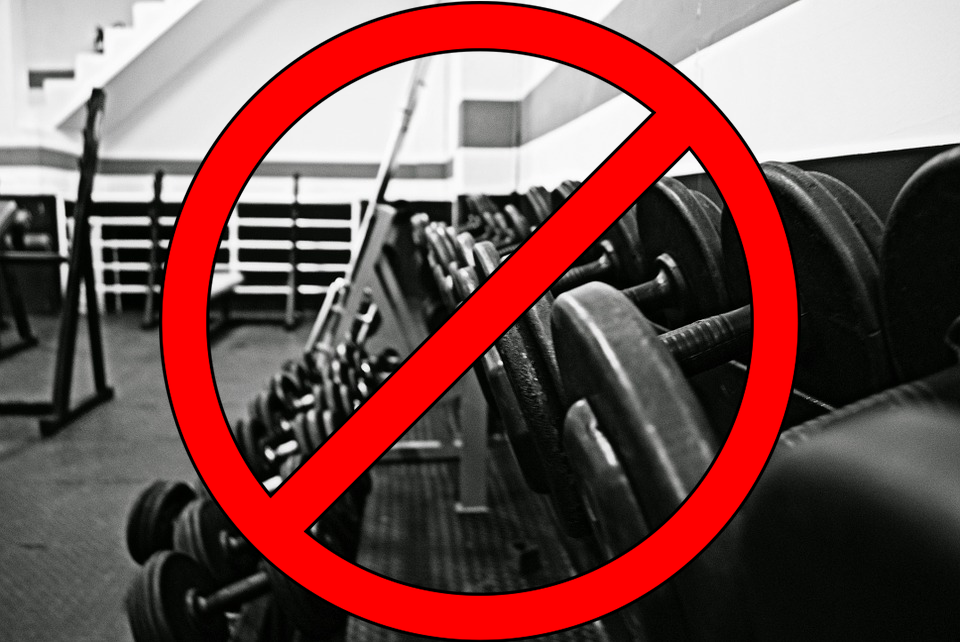 It may be hard to believe that I don't love the gym. As someone who's spent a not-insignificant portion of my life in gyms trying to get as strong as possible you would think that I'm enamored with the process and it's something I couldn't live without–a sentiment that many regular gym-goers do share.
But I don't. In fact most of the time I see it as necessary drudgery. Sure there are times that it's exciting to chase a particular goal, or when I am really enjoying what I'm doing, but that's not the majority of it. I view working out as a necessary chore, something akin to homework, that I have to do so that my body is capable of doing whatever I want it to do. And, yes, I recognize how lucky I am to even be able to work out regularly.
I'm not going to take the time to try to convince you that lifting weights and doing some form of cardiovascular exercise is worthwhile. Suffice to say that if there was a pill that controlled weight, increased your lifespan, improved mental health and general mood, strengthened bones and prevented osteoporosis, reduced the risk of many cancers, reduced or eliminated type 2 diabetes, reduced cardiovascular disease, improved ability to do daily tasks, importantly for older people reduced and prevented damaging falls, increased energy both perceived and actual, improved immune system function, and reduced stress it would be without a question the most popular drug in the history of humanity and everyone would take a daily dose.
But, I am here in full recognition that the number of people who currently exercise regularly (going for hikes and occasionally being outside is great but let's be clear, it's not the same as progressive resistance training and intentional cardiovascular exercise) is a fraction of a fraction.
And I realize how much I am at fault here, by letting perfect be the enemy of good. A new gym member asks "how often should I work out?" Well I tell them that three times per week is generally ideal to get the best results. And it is. This is virtually indisputable. But that's too much for a lot of people.
Something that as a gym owner keeps me up at night is that for the majority of the majority this desire and ability to dedicate a couple hours (including transit time etc) to going to the gym the majority of the week nights hangs in the most tenuous of balances between other priorities and desires. All it takes is a job change, a new baby, a new relationship, a move, or any number of other things and this person won't come back to the gym at all for 5-6 years until they start the cycle over again.
So I offer a solution.
This program is not going to get you the fastest "results." This program isn't optimal or ideal. This program isn't going to put slabs of muscle on your body or strip layers of fat like all good programs promise. This program isn't as good as a program that gives you more practice, more progression, and more time under the weights.
But, this program is something I think that someone can, even begrudgingly, drag themselves to the gym to do once a week.
It's something I think you could do for years, because it's just once a week. And doing this for years will have a meaningful effect on your quality of life.
Sorry, no 12-week promises here.
If you hate the gym, for whatever reason, but you recognize the value that consistently doing focused exercise over the course of years can hold then this program is for you.
The Program & How to Use It
The program is simple. One workout per week. Some of the exercises will repeat, but they may be new at first. You have an entire week between workouts so this should give you enough time to do your homework, understand the intention method behind the movement, and be ready for the workout. Part of any strength program is taking ownership of your body and learning how to best utilize it. This is no different.
Most of the days are just two exercises. The weights you choose should be challenging. If you picked the lightest weights in the gym you could finish the whole workout in 3 minutes and you wouldn't get much out of it. But if you choose weights are challenging, such that you need a couple minutes to recover in between sets this will be a good workout.
Sometimes a little specific cardiovascular exercises is included. Keep this easy, at a pace where it might be hard to keep up a conversation but you aren't struggling to catch your breath.
Don't hesitate to make adjustments. Three sets not enough? Do another one. Want to go heavier and do fewer reps? Great, do that!
Who knows, maybe you'll learn to like the gym. Even love it.
Here's the program itself. I've also created a PDF version that has links to tips to how-to videos. Just trade me your email address so I can keep you updated on any changes. If people like this and find it useful maybe I'll expand it out to a full year program. Click the program image, or click here to download the full version.
Just For Fun
Tweet at me and include the hashtag #IHateTheGym and tell me why you hate the gym. Maybe it's a one-off experience like Allie's, or a more general sentiment.
Walking 4mph at an incline on the treadmill while the perfect Swedish girl next to me gracefully jogs at 9mph 😒 #ihatethegym

— allie (@allie_leachman) October 13, 2016
Either way I want to hear your stories.