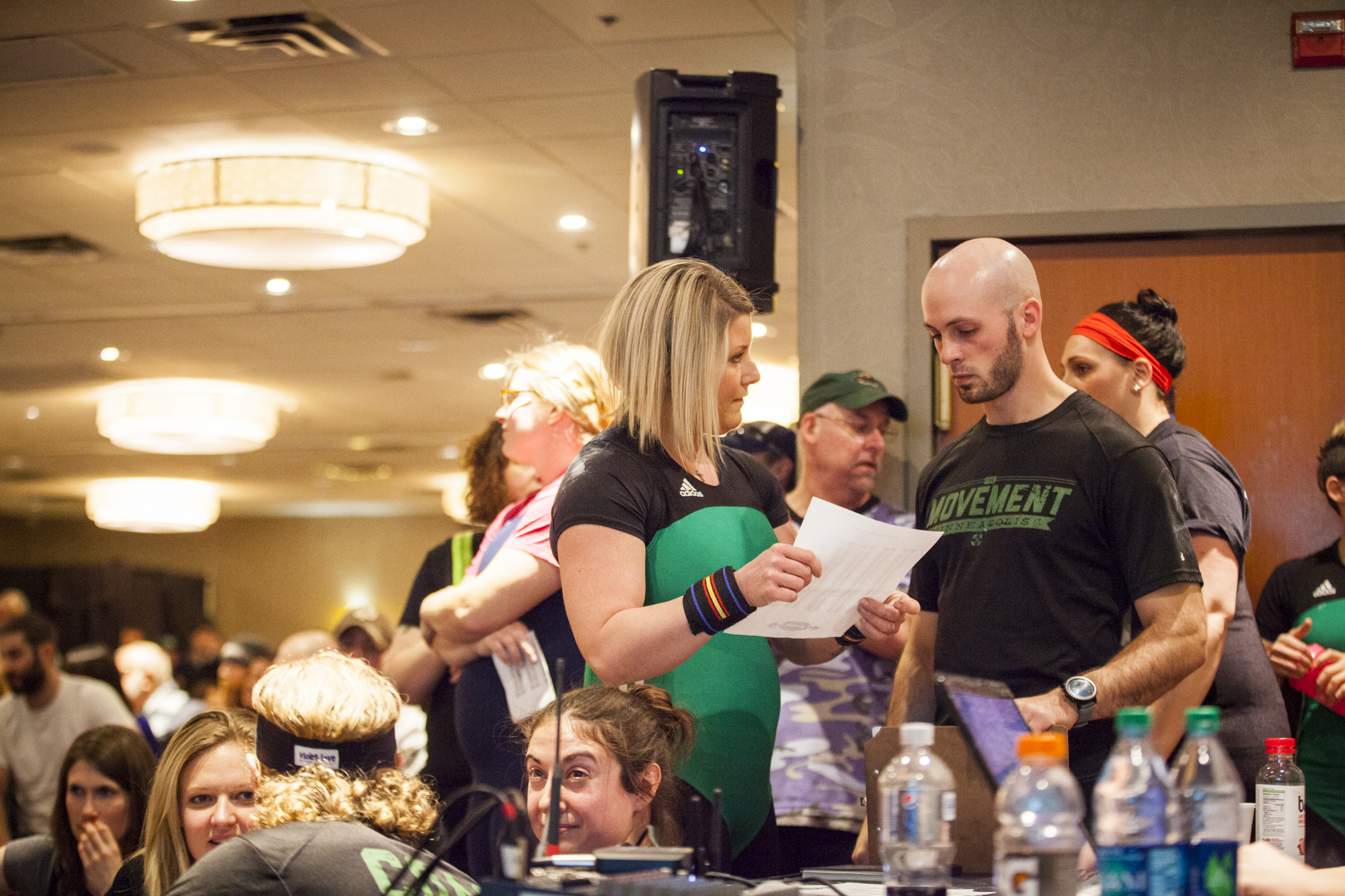 I recently coached seventeen lifters, the majority of whom had never competed before, through their first powerlifting meet at the Minnesota State Open. They all did very well, had a great time, no one got hurt, and most importantly to me completed more lifts than the rest of the field. This isn't because they were necessarily stronger, which in most cases they weren't, but because they chose their lifting attempts more wisely.
The successful lift rate for my lifters was ~82% versus 75% for the rest of the field.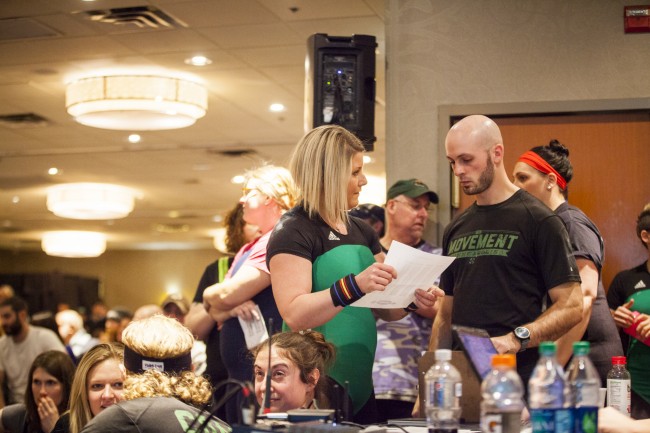 Attempt selection is easily one of the biggest factors that will not only determine how well you perform overall in a meet but how much you enjoy the experience. Leaving a meet knowing you could have lifted a little more means you'll be hungry and excited to do it again. Bombing out or missing a lot of lifts will make you feel like crap and ruin your experience. Missing that first squat opener will set the tone for the day.
Get to know your strength level intimately beforehand, and choose ALL your attempts before the day of the meet. This is critical. Don't show up to the meet with a bunch of numbers in your head or even just your openers. During the meet decision fatigue will set in and you'll find it harder to make smart decisions. Choose all your openers, and then "bracket" your choices for 2nd and 3rd based on if the previous lift went better or worse than expected. I cringe every time I see a lifter go up to the scoring table after their attempt and run their fingers up and down the conversion chart trying to decide what to do next.
Never, ever, ever miss your opener.
One of my lifters, Kate Gallagher, designed this super useful PDF template for laying out your lifts. Some of my lifters used a notebook, and some used this worksheet, but every single one of them had their lifts picked out before meet day.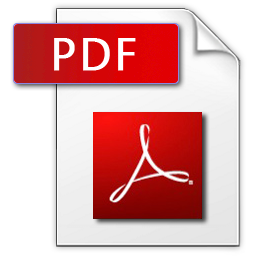 How Much to Lift
1st Attempt: Your opener should be a weight you can lift 10 times out of 10 with a cold and a headache. In most cases it will be a weight you could do for a triple, and not in a best-case-scenario PR in the gym kind of day. Think of it like your very last warm-up rep under the exact conditions you'll be competing in when you go for your two attempts that actually count. There is no reason to go for a 1st attempt weight that you would be satisfied with in terms of your total. If you only make your opener and miss your second and third attempt you should go home and think about what you've done and not repeat that mistake in the future.
Specific heuristics for each lift:
Squat 1st: This is your very first lift of the day and will set the tone. Consider being cautious and conservative.
Bench 1st: The data shows that the bench press eats lifter's totals. Many, especially new lifters, make technical mistakes on this attempt. Guys especially who haven't practiced with a pause tend to exaggerate their strength and are surprised how much harder a bench in competition is.
Deadlift 1st: My recommendation is to open at about 80% of your expected max lift. This leaves more in the tank for this demanding lift at the end of a long day.
Misses here: If you miss your 1st attempt due to a technical failure (a rules violation, not a failure to complete the lift) you should take the same weight again or the smallest possible increase (2.5kg). Missing this lift means your whole plan is out the window. I have seen people who miss and go up to their planned 2nd attempt bomb out of the meet all too often.
2nd Attempt: This is your first money lift and should represent about 90% of your maximum potential for the day. Making this lift but missing your third should still leave you with a solid total, but should NOT be a PR attempt or close to your predicted max. Don't make this mistake of thinking that this is your first crack at a PR and the 3rd attempt gives you a second shot if you miss. Plan for success, not failure. If you have competed before, this attempt could be your 3rd attempt from the previous meet, depending on your progress.
Misses here: A full miss here puts you in a bad position for the 3rd attempt and will be extremely costly to your total. I'd recommend re-trying the same weight and hoping for the best. A technical failure on a completed lift puts you to a decision. You can go up to your planned 3rd attempt if you feel absolutely confident that you're going to make it, but in my opinion you haven't earned the right to go up by making your lift, so I would consider taking the lower end of your planned 3rd attempt.
3rd Attempt: Here is where you maximize the potential you brought on game day. This might be a small personal record, or otherwise 100% to 102.5% of your max. It's not the "go for broke" attempt or the "pray that the crowd pumps you up and you put 50lbs on your max" attempt. Making this lift is what wins meets and increases totals.
Specific heuristics for each lift:
Squat 3rd: At this point in the meet you do not know what the competition is doing relative to you so it's most important to execute your plan and make your lift. Get some feedback on how your 2nd lift looked from your coach and watch video to inform your perception. Sometimes a lift that felt slow flew up and it's important to know when choosing your 3rd attempt. When in doubt go with a smaller jump. A lower white-lights lift adds more to your total than a miss at any weight.
Bench 3rd: By now you may have some idea who you are going heads-up with. If you are closely matched with someone else then it might make sense to be more conservative with this lift to ensure a successful lift. 3rd attempt bench presses tend to fail at an astonishing rate, so whatever you think you can do it's pretty safe to say it's probably a little bit less than that. In the meet I analyzed that had a large sample of lifters, 33% of 3rd attempt bench presses were successful. Part of this is technical failure due to rules violations, but part of it is just people grossly overestimating their actual strength. Know that a more conservative lift is more likely to add to your total.
Deadlift 3rd: This is the most strategically significant lift of the entire meet. You should know exactly where other lifters in your class stand and how the attempts will play out in the overall results. "If they make this, I need to make this – if they miss, I only need to make this." It can be the difference between winning and losing, and due to the high-arousal and low technical skill of the lift it's possible to pull out something you otherwise wouldn't be capable of especially if you're a lifter who excels under pressure. That being said, it's still important to recognize your limits and execute your plan. If this is your first meet, I'd argue that regardless of the difference between winning or losing you should go with the attempt that you're 95% sure you can make. However, a more experienced lifter might go with a slightly higher attempt (no more than 5kg) if it means the difference between 1st and second place, or winning and losing.
Final Thoughts
Aside from training properly and consistently to prepare, I don't think anything has a bigger effect on your meet enjoyment and success than attempt selection. Your goal for every meet should be to go 9 for 9 and consider anything other than that a mistake that you should do everything you can to fix next time.
Don't forget to have fun.