There are several traits that Superman has that, sadly, you'll never be able to acquire like x-ray vision, flying, or changing the course of mighty rivers, but there is one you can learn: bending steel with your bare hands. This old-time strongman feat is not only an impressive way to display strength and power, but is also a great way to take your strength from average to imposing. Last week I posted a video on Instagram of myself bending a nail which generated a lot of questions and emails. I asked my friend Robby Sparango, a coach at P360 Performance in Mission Beach, CA and avid bender to outline how to get started bending steel.
Bending metal with your bare hand seems kind of stupid why would you want to do this?
Asks the guy who routinely jumps out of airplanes! Two reasons stand out more so amongst dozens that come to mind. First and most imperative, it strengthens your lower arms. The hands, wrists and forearms are undoubtedly the weakest link in most people. Even those who train consistently are likely neglecting these areas, inhibiting their potential. Our hands have a monumental work capacity that has been reduced to dormancy in the age of pencil pushing and button tapping. The requirements to wake those monsters up are daunting. This is why high caliber benders are so impressive and are typically very, very strong in many arenas. The second reason is associated to the first, they carry over to your lifts. Hand strength is correlated to nerve force. If your brain thinks your hands can't handle something it pulls the emergency-brake on your entire system. Bending is an excellent tool to find your force boundaries, then train accordingly to increase that nerve force progressively. As your hands/wrists get stronger, your lifts will feel easier.
What kind of base level of strength do you need to get started bending?
I'd say a double-bodyweight deadlift is a minimum prerequisite. Seems arbitrary but my rationale is this, bending requires an elementary understanding of creating tension, muscular recruitment and mental fortitude to grind through lifts. There is  easier steel to start with but it will not teach you much, if anything. You must have awareness of what true resistance feels like, a lockout where seconds seem like minutes is a great precursor. Presumably those interested in bending are already somewhat versed in strength training, so this shouldn't be much of an obstacle.
What is a typical progression in terms of difficulty starting from something a beginner could do towards a bend that would earn you a bro fist bump?
Most beginners will get their hands on some light stock ranging between 5-7 inches at 3/16 thick. Pretty much anyone is gonna blast through that, so up next would be a 6-7 inch, 1/4 grade 2 bolt. These make for good technical instruction and positional awareness without taxing your joints. This would be a beginners first pride inducing bend.  A spectrum of stock thus ensues ranging from 40d nails, "yellow", "blue" nails and spiral 60d's. A beginners first "bro fist-bump worthy" bend I'd say, would be a 6 inch long, 1/4 grade 5 bolt. Many would say a 60D nail but I've seen plenty of dudes hit a 60D on their first try, only to get their ass handed to them by the grade 5. As a beginner you'll be thrilled to get a 60d no doubt, but once you get a grade 5 under your belt you'll know it's another level entirely, and confidently smash every 60d without hesitation. Once you become a bit more experienced a 1/4 grade 8 bolt is highly respectable and well deserving of a fist bump.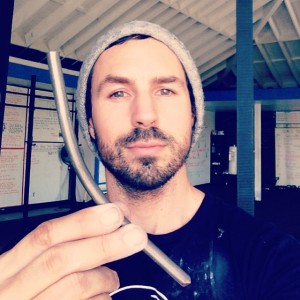 If someone wants to get started right away what should they pick up?
Without a doubt, Jedd Johnson's (DieselCrew) Nail Bending eBook and/or Nail Bending DVD are indispensable. He has done all the homework for you. Progressions, technique, safety, training, you name it. The bending stock however will depend on your access to steelyards or the legitimacy of your local hardware store. IronMinds "bag of nails" will likely be a beginners first purchase as well. I don't know if Fat Bastard Barbell Co [editor's note: sadly, it does not appear that they are.] is still up and running, but I would routinely purchase bolts from them as my local hardware stores don't carry the specific stock I require. You will also need wraps. Naturally, IronMind has their own IMP's (IronMind Pads) which you will need if you plan on certifying on the red nail. Suede wraps are also great for volume training as they will help you develop your strength without chewing your hands up. I get my suede wraps from David Horne. [Editor's note: you can usually find various leather scraps at a fabric store that work well.]
Let's say you were coaching a beginner through their first cycle of bending what would you have them do?
Test the movements! Bending is an entirely different animal than most are accustomed to, even strong folks. I think testing in this discipline is the best way to maintain proficiency and prevent injury. I never bend on a day it doesn't test well.  There are also an array of bending  "styles" that work better for people, so we'd want to determine which style will be the most effective for the individual. My bending style is double overhand, I have very long, mobile arms and can generate a lot of force this way. However, I am also much, much smaller (5'7, buck fifty soaking wet) than most who take to bending, they tend to be larger men with whom mobility may be limited due to muscle mass, so another style may be better suited, such as double underhand or reverse style. Most important, videotape yourself! this is the best way to gain awareness of your technique, as your eyes will likely slam shut during most bends.
Anything new benders should watch out for that you've learned the hard way?
Be patient and keep the volume low to start. Benders will tell you that they age in dog years, so be sure prior to your sessions you are fully warmed up. Expect a bit of tendonitis around the elbows early on, but there are great preventative measures to keep serious injuries at bay. Also, treat the bends as you would any other lift.  Don't think because you got one bend once that you can scratch it of your list. If your goal is a 6 inch grade 8 bolt, be sure you're hitting grade 5's for triples. Once you know your optimal bending style, practice the other ones with lighter stock as well to compliment your strength. For example I pull conventional for deadlifts, so I consistently pull behind the back and sumo as well. As such, I practice reverse and double underhand bends whenever it feels appropriate. And of course listen to your body, if it doesn't feel right then let it go. Hit it next time.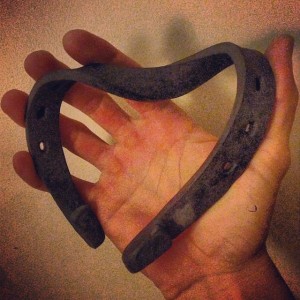 What are good resources if someone wants to dig deeper and learn more?
DieselCrew's Nail Bending eBook by Jedd Johnson for certain. [Editor's note: Robby mentioned this book twice because it's that good, pick it up if you want to bend.] It's the one and only comprehensive "how to" for bending out there. You'll also find that nearly every grip guy has delved into bending at some point, so another resource would be the gripboard.com. It is a forum where any and every detail is covered regarding grip and bending by fellas who've been there and done that.  Just as beneficial would be Youtube. Nearly everyone who bends has a channel with instructional tutorials, technical advice and of course PR / Certification attempts. I could drop a dozen names here, but Daniel Reinard is a cyborg with the training cleverness and strength to match. As we're both in Cali I try to hit any grip competition he's at to get some face-time with him. Which brings me to the best resource, training partner(s). As in any strength training regimen, find yourself some pragmatic grunts who'll not only push you, but who also understand that bending isn't merely brute force. There is skill, technique, and an unyielding willpower required that may easily send big guys egos packing if they can't get a bend the first time. Surround yourself with like minded folks and accelerate your progress exponentially.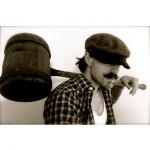 Robby Sparango is level 1 Performance 360 coach, gripsport competitor, practitioner of oldetime strongman feats and recent arm wrestling noob living in Mission Beach, CA. He's a strength enthusiast obsessed with lifting heavy who actively seeks out the most experienced folks for competitions and workshop they hold, wherever in the country they may be. Y'all can see the stuff he bends or lifts or plays with when he's not doing those things on Instagram or Facebook of course.