Continuing my in grip training series about how to be more like Jared Allen this week I want to address the bastard child of grip training that I despise: pinching. Pinch training is so important to hand strength and health and is equally neglected by standard gym practices and most people – even those who think they train their grip.
Pinch gripping involves using the forceps power of the thumb and fingers together. The range of things you can pinch range from small and thin objects like a thin piece of steel with a hole punched in it to hang weight from to the wide berth of two 45 pound standard plates sandwiched together.  In general, there is a width sweet spot where your pinch (depending on hand size and other anthropometry) is the strongest and on both sides of that sweet spot you can pinch a bit less.
They say a picture is worth a thousand words, so try this: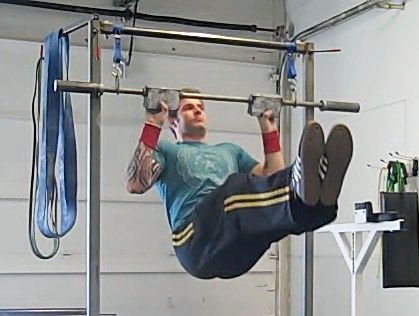 If that isn't convincing enough, here are the two most important reasons you should be doing at least a little bit of pinch work on a weekly basis:
First, in the same way that standard one-inch barbells and dumbbells don't adequately stress the strength of the thumb, no typical gym movements adequately train this important function of the hand.  You simply can't develop complete hand strength without working on pinch strength. No matter how good you may be at closing difficult grippers, holding on to heavy barbells, or strong with fat handled implements none of those things will carry over to the forceps power of the thumb and extended fingers.
The second reason is fairly counterintuitive. Training opposition movements is vital to maintaining health and function. For example, a smart trainer or trainee balances their pushing and pulling movements even going to far as to doing more pulling if their life movements consist of pushing movements or positions. With most grip training consisting of closing the hand against resistance, it stands to reason that the functional opposite would be opening the hand against resistance. This has led to the popularity of extending the fingers against rubber bands. The problem is – it doesn't work. On the other hand, training the stabilization function of the fingers in a static and extended role does seem to maintain hand health and function. I first learned this from grip freak show Adam T. Glass and have since put it into practice. I owe the following useful analogy to him as well, that helps to understand why that may be:
An alligator has tremendously powerful jaws, able to clamp down with enough force to tear flesh and break bones. But, if a handler can wrap his hands around the closed mouth, the alligator is unable to open it. His jaw, much like the muscles of the hand, simply are not designed to open against resistance – rather they're intended to close forcefully against it.
This is one of those counterintuitive practices that may not seem logical and can only be learned through experience and trial and error.
Training Your Pinchers
One of the very best ways to train pinch is with an adjustable pinch apparatus. This device, also known as a "euro pinch" allows you to easily adjust the width of the pinch surface, provides a uniform gripping surface for the hands, and is easily plate loaded. Up until recently the unfortunate answer for how or where to get one was "You can't." David Horne, a grip aficionado and legend based in the UK, produced and sold the devices but had stopped doing so. Serendipitously, Jedd Johnson has recently started selling the device.
The reality is most people aren't interested in grip training enough to buy an expensive and special device for it. Fortunately, there are some really great simple products out there that will help you easily and cheaply train your grip.
The very easiest (and probably free) thing to do is to sandwich two weight plates together with the flat surfaces facing out. You can either hang weight from the holes, or just get a short piece of 2" pipe to put through the center and add weight to.
In this way, two 10s, two 25s, and two 45s give you different widths and weights to train with. A quick demo of that and a few other things you can use in this video:
Things to Try
Once you've got something difficult to hang on to, there are lots of things you can do with it:
Deadlift it, obviously.
Do pull-ups with it, if you're strong enough.
Row it.
Attach it to something you can drag and drag it.
Do swings with it.
Farmer walk it.
Hold on to it for time.
Juggle it.
Add more weight to it, and do it again.