Since releasing Off The Floor, one of the questions that keeps coming up is "does biofeedback really work?" This is certainly not a new question me, as someone who has been advocating the Gym Movement Protocol and this style of training for four years. At first glance, people think it's ridiculous that simply doing a movement can affect your range of motion – and even further that this actually means something.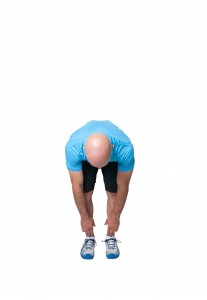 Until someone decides to do a proper study on this (and it's going to awfully difficult to do an RCT) we'll have to rely on what we know so far, and what evidence we have. Here are a few things to consider:
Every single client at The Movement Minneapolis is taught how to test. I'd estimate I've taught somewhere around 400 people. The vast majority diligently test everything. Every day I observe changes in people's ROM based on the movements they test. Sometimes people are surprised that the exercise they hate the most tests the best. Other times people predict that a certain exercise won't be good based on how their body is feeling and they are affirmed by the test. Day after day I observe people testing, and there is a clear and repeating correlation between their testing and their bodies.
I've had several instances where people actively ignored a bad test, continued with doing the exercise and ended up tweaking something. This doesn't seem to happen with exercises that tested well.
I have several clients who are members of another type of gym that involves doing an arbitrary series of exercises for a completely arbitrary number of repetitions – regardless of if they're good or bad for them. For these people, the same exercise or type of exercise they just did the day before doesn't test well. We usually test the opposite, and that does test well which is consistent with our training model of testing the opposites of movements when the target doesn't test well.
Critics have said "You're obviously just doing what you wanted to do anyway." Well, just about anyone who has done this for a week or two can tell you that very often the exercise you least want to do is the one that tests the best.
Using biofeedback is not a new idea, even if this context is new to you. If you've ever used a heart rate monitor at all, you've probably used biofeedback. If you've ever taken your own temperature, and then taken action to lower your temp, you've used a rudimentary form of biofeedback. The question isn't really "does biofeedback work" because that part is indisputable, the question may be "does biofeedback tell us something useful specific to exercise." To that end:
Have you ever had a day where each set of the exercise you're doing seems to feel better and go better than the previous set? In terms of biofeedback testing, this is an indication that the exercise "tests well." Why is it so hard to believe that you can quantify this effect and compare disparate movements?
The other day, someone asked this same question, "does this biofeedback stuff have any validity" of my friend Jon Fass. Now, the thing you should understand about Jon is that he doesn't pull any punches. He and Bret Contreras run a podcast called the Strength of Evidence where they expertly dismantle myths and unsupported beliefs using facts and evidence. He often gleefully takes apart outdated beliefs in a well-crafted argument laced with the evidence that works against them. Asked about biofeedback testing this is what he said:
The Sultry Dr. Jonathan Fass

I think that there's enough evidence from other areas to suggest that it may be plausible; in other words, no, I don't know if it's actually working as promised (because, to my knowledge, this kind of training has never been studied), but I don't think that this is likely to be untrue, at least on first inspection. David and I have discussed writing a thing or two on the subject to be published, basically a "plausibility paper" to encourage further investigation, maybe a case study or two. I definitely find it intriguing, and I have tried it as well. I've noticed what appears to be changes in my ROM between different exercises, before and after, etc. What that means, I can't tell you, but I don't think that it's implausible at all when we consider certain hypotheses concerning tissue extensibility, pain research and protective posturing, etc, etc. I think that at worst, it doesn't work and you instead benefit from the potential of exercise/movement variation, which is still beneficial; at best, there's something to this and we are benefiting from superior methods of assessment

Intriguing, right?

-Dr. Jonathan Fass
So, there's that.
Ultimately, I don't want you to take my word for it. I just want you to try it. You don't have to buy any equipment, and it adds only a few seconds to your workout. At worst it tells you nothing useful and you're no better or worse off than before. At best, you are empowered with a tool that completely changes how you train and helps you get exponentially better results. Just test it.
P.S. Have an interesting anecdote of your own? Share it below.