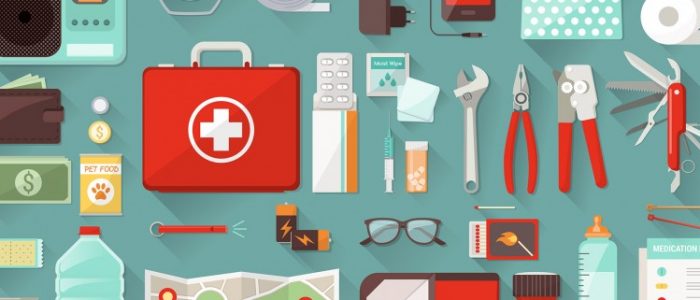 Last week's email about snow shoveling prompted a great question from a long time reader and friend. "It got me thinking how vulnerable cities can be to disaster given the reliance on energy to make everything run. I also realized how under-prepared I would be for something like this."
Now, I'm not going to go full prepper on you, but this is a really great question and before I tackle it I want to justify why you should prepare for the unexpected.
This is going to sound ridiculous but the unexpected is going to become more and more unexpected. What I mean by that is the world is so complex and interconnected that some geopolitical or weather event happening on the other side of the world could actually disrupt your food or energy supply, something totally impossible and unheard of even a couple hundred years ago. To say nothing of the complexity in delivering things like water and energy to you on a daily basis. It's not inconceivable for an entire city's water supply to become poisoned – just ask people in Flint.
Ultimately though, it's not about you. You are young and you're healthy and you can probably go a day or two without food if the worst should happen, right?
Maybe so, but can your weak and elderly neighbor?
And that's what being prepared is really about. If you are able to help out those who aren't prepared at all then you're an asset, otherwise you're just another liability.
So what should you have to cover the basics?
The easiest way to think about it is to look at the hierarchy of needs.
Water is critical. You should have about 1 gallon per person per day you're planning for. If you have pets, make sure to include them. I've got about 12 gallons of water in my stash at home, which should be good for 3-5 days without even having to stretch it out. I also keep a Lifestraw set aside as a cheap insurance policy.
Food isn't nearly as critical, but because you can account for it very cheaply and easily I think it's a good base to cover. Besides canned goods and food you might have around all the time (keep in mind your freezer food is unlikely to make it past 1 day of a major power outage – 50% of Puerto Rico hasn't had power for over 12 weeks) I keep a 4-day emergency supply of essentially backpacking food that cost me about $50 when it was on sale at Amazon. It's not going to be gourment, but it's going to taste awesome on day three of the trucks not delivering and freezers not freezing.
Next, it may well be that your best bet is to get the hell out of Dodge. While it's always best practice to keep your gas tank as full as possible, most people don't do this. So if space and living conditions permit, keep five or ten gallons of gas in a safe container in a safe place. While this isn't going to be enough for a cross-country evacuation, at least it should get you out of the major city or immediate vicinity of the disaster and far enough enough away that you'll have more access to resources.
I promised not to go full prepper so those are, in my opinion, the most important bases you can cover that you probably haven't given much thought to and would make weathering an unexpected extreme storm, natural disaster, or alien invasion much easier. Here are a few miscellaneous items it would be good to have, preferably all in one place so you know where everything is if you need it in a hurry:

-Battery-powered or hand crank radio and a NOAA Weather Radio with tone alert
-Flashlight
-First aid kit
-Extra batteries
-Whistle to signal for help
-Dust mask to help filter contaminated air and plastic sheeting and duct tape to shelter-in-place
-Moist towelettes, garbage bags and plastic ties for personal sanitation
-Wrench or pliers to turn off utilities
-Knife and or multi-tool
-Local maps
-Cell phone with charger
-Backup USB battery or three
Remember that the key to insurance is to insure losses or risks you can't afford to absorb. Can you "afford" to ride out three days of no power, no trucks making deliveries, etc?  I'd argue that spending maybe a hundred dollars on supplies that could potentially help you or your neighbor survive the unexpected is the cheapest insurance you'll ever buy, and it might not even be you that reaps all the benefit from it.
To your preparedness,