Minnesotans are exceptionally good at taking advantage of nice weather. If it's a sunny, 75° degree day you can go for a drive and see dozens of people running around the lakes, especially in Uptown where my gym is located. As someone whose eyes are finely tuned to observing movement, this can be a bit like someone with hyperacusis going to an amateur music festival.
This is what it seems like most people are doing: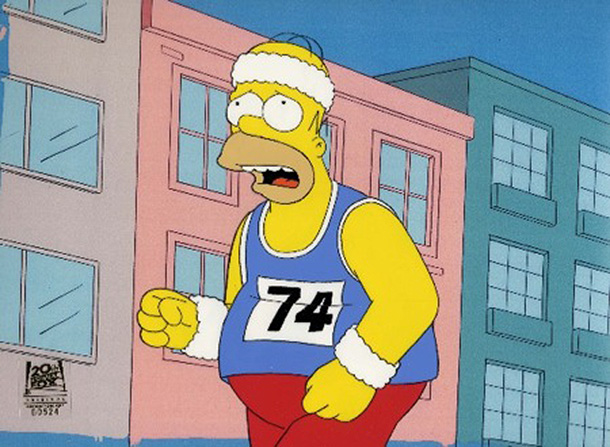 I could probably write a half a dozen posts on what I observe with the vast majority of runners, but I want to focus on the very basics for this one. These tips are for the person running 10+ minute miles, not 20 minute 5ks.
#1 – Move Forward
This seems awfully obvious, doesn't it? The goal of running is to create locomotion to move you from point A to point B. Why, then, are so many runners moving up and down more than they are forward? Or swinging their arms out to the side more than in the direction they're moving?
There are probably dozens of reasons, all distinct to each person, but they don't matter as much as the solution. Move as much as possible in the direction you're going.
This may involve speeding up, or slowing down your pace. Try changing how you strike the ground with your feet, or how much you reach forward with each stride. Experiment with how much you "lean" forward into your stride.
The direction of arm swing is a big one. If your arms are not moving at all, that is a major inefficiency that is sucking up energy in NOT moving them. Think of the arms as a counter-balance to the movement of the legs and hips. As your left leg travels back into extension, your right arm should be moving backwards with it.
#2 – Don't Run with Stupid Asymmetries
If you've been reading my work for any length of time, you'll know that I am an enormous proponent of asymmetrical training. You are not symmetrical, and you're  never going to be no matter how many movement screens, corrective exercises, or perfect reps you do.
That being said, running with a heavy water bottle in one hand is stupid. Or a dog leash. Running with your dog is awesome, so get the appropriate equipment for it.
If you test it and it tests well – awesome! Keep it up, just make sure you keep testing because it will change. It could even improve your function. But if you're doing stuff like this in an untested fashion it will jack you up.
#3 – Run, Don't Stumble
Most of the running I see can barely be called running. Stumbling repeatedly is probably more accurate. I don't mean to be condescending to people who aren't already amazing runners, but the fact is you're doing something, often for the wrong reason, that isn't good for you. With a few changes, you could be making progress at getting better and better.
The single biggest change I have people who run like this make is to run faster. Certainly, if you're a 10-minute-miler they will be forced to take more breaks because they aren't going to be able to sustain a pace that is minutes faster than what you're accustomed to. That's fine! No one is going to step out onto the trail and hand you a citation for walking instead of running. It doesn't make you less of a runner, and in fact you're going to get better quickly.
Running faster, for a variety of reasons, is also likely to reduce the incidence of injury. If you run fewer miles because running faster is more taxing, then so be it. That is another reason you're less likely to become injured – you're running less!
To put this into perspective, one of my Movement Minneapolis members qualified for the Boston Marathon this year with 8 minutes to spare. I had her run fast in her training, running an average of only 17 miles per week. At first her runs were shorter, but she quickly adapted and became faster and faster.
Last Word
Big picture, I want more runners to stop settling for plodding along at the same pace for the same distance over and over again. You're already doing it anyway, get better at it! These tips are simple and effective ways to get more improvement and more enjoyment out of your running.
I think you can end up looking like this: