If you want to perform well and look better eating good food is not optional.
This is a meal that you can whip up in literally 8 minutes. Not that 8 minutes that the TV chef says it will take but it really takes 35 minutes, but actually 8 minutes. I know this because I can make this in the time it takes to cook pasta, which is about 8 minutes. I don't recommend pasta as an always-meal if your goal is fat loss, but it can be a great post-workout meal or you can turn it into an anytime meal by skipping the pasta and subbing steamed vegetables.
Sugo al'arrabbiata is a popular sauce due to its simplicity and fantastic taste when high quality and fresh ingredients are used. Meaning literally "angry sauce" the amount of anger in it can be adjusted to suit taste based on how much red pepper and garlic you add.
Here's what you need:
A can of tuna

A can of whole tomatoes
[optional] Any kind of pasta, penne work well
Garlic
Olive oil
Oregano
Red chili pepper
Basil (dried or fresh)
Pepper
Salt
I don't specify specific amounts for a reason – you are going to quickly eyeball the amounts and this recipe doubles or triples easily. You can assume that this base recipe is for one person.
Put a pot of water on to boil. Make it a small pot if this is a single person meal.

Put some olive oil in the bottom of a small pan. I like about a donut sized circle of oil. Turn it on medium-low.
Chop or slice some garlic into the oil.
Sprinkle in some oregano, basil, and red chili pepper to taste and add a pinch each of pepper and salt.
As the garlic and seasonings become fragrant, open a can of whole tomatoes. Dump out the liquid part, reserving the whole tomatoes. Dump the whole can into a Magic Bullet cup, and blend it for a couple seconds just until smooth. Don't overdo it and turn it into tomato juice.
Turn the heat off the oil for a second, and then add the tomato. If you do it too quickly, you will be rewarded with a thin layer of oil and tomato droplets on your counter.
At this point the water is probably boiling, add your pasta to the water.
Turn up the heat on the tomato sauce, and let it simmer for a few minutes. Then add your can(s) of tuna and stir it up.
When the pasta is done, drain it and add the sauce.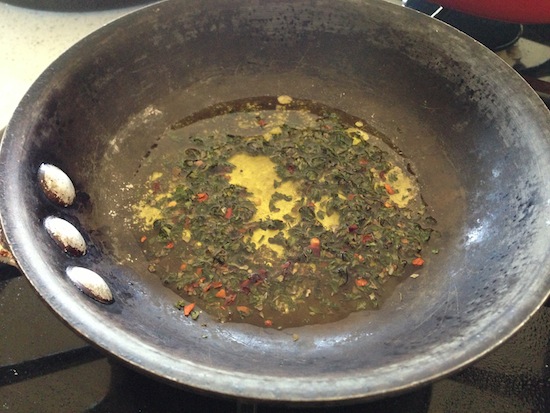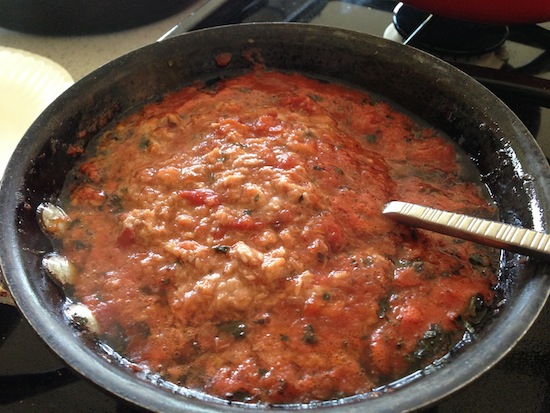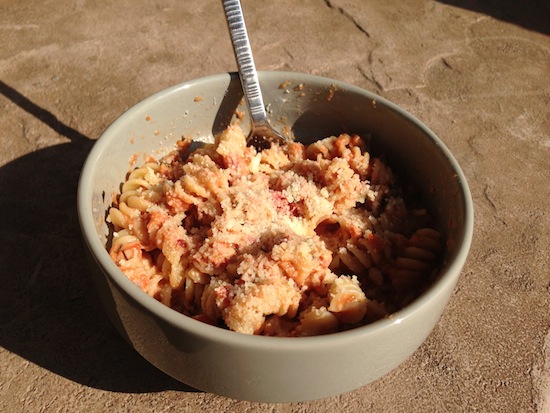 At this point, you can add a little parmesan to your pasta if you like breaking traditions (adding cheese to fish is frowned upon in Italy.) As I mentioned before, this makes a great meal without pasta. A half a head of steamed broccoli works very well as a fat loss friendly meal. Doubling the tuna per serving works well for those trying to get some gainnns.