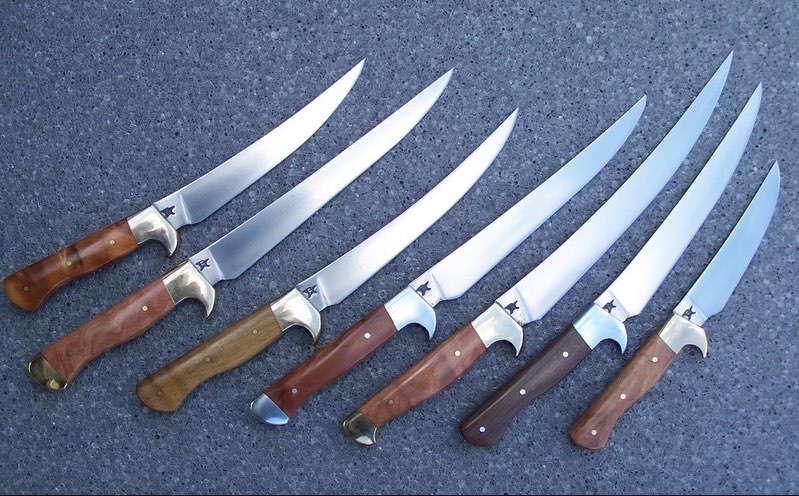 Last year Jen and I went to Australia and New Zealand for a few weeks, spending most of that time in New Zealand driving around and exploring the north island. Some of the days we had a bit more rigid of a timeline than I would have planned for with more experience, but other days we were able to take a leisurely pace. It was on one of these days (after we spent hours scouring the coast for oysters to break off the rocks and eat just like that) that I turned off the Google Maps and just followed signs for the next town we were headed to. I probably didn't take the most direct route and as a result I passed by a small sign that said "knife maker." It was late though and I knew there wasn't much chance it would be open so I made a mental note to look it up later.
Sure enough, I had passed right by the workshop of a well known Kiwi artisan knife maker who makes handmade knives from recycled car coil springs. Suffice to say they are beautiful pieces of artisan handiwork. Now it's a goal of mine to go back and buy one of his knives.
The story of finding something you weren't looking for is as old as time, right, so what does this have to do with Monday's email?
Most often when you have clear objectives the only things you can see are the objectives. You can only find exactly what you were looking for. Sometimes your tools and perspectives are so limited and myopic that there is no hope of true discovery.
This week has been particularly heavy with smug self-righteous articles dismissing one thing or another because science hasn't been able to accurately assess their worth with the available metrics.
Let me just stop you there before you think I'm anti-science. I love science. I was winning science fairs before science was cool. But I also recognize the stunning limitations of the scientific method.
A recent review of clinical evidence of the efficacy of turmeric (hypothesized active ingredient: curcumin) to improve various maladies such as sore throats, etc. And they looked at all this evidence and all these attempts to isolate the use of turmeric or to extract a drug from it and on the face of it there is no evidence to suggest that it's "effective."
Yet, you have countless cultures that have used turmeric as a key ingredient in their cooking for something like 4000 years. Could there perhaps be some wisdom trapped in something that been done for so long?
There is a particularly good episode of Krista Tippett's On Being with chef Dan Barber that has stuck with me since I first heard it many, many years ago. Chef Barber essentially set his objective at "tastes good" and it led him down this road of discovery where he realized the best way to make his food taste good was to follow the most ecological process to grow it. No metrics needed. But there's one particular passage I loved. Sorry it's a little long:
"And he's strict I think it's glatt kosher — it's kosher, anyway. So he needs a rabbi at the farm when he's harvesting. The rabbi grabs hold of the combine and walks with him on the field. These grain farms are enormous, even in upstate New York. It's a lot like what you have here, thousands of acres. And a combine with a rabbi walking next to it has to go a lot slower than it would without, which generally makes kosher food, by the way, more expensive. That's one of the issues related to kosher food.
But what he realized, when the rabbi would stop the combine, he would stop it because there was wild garlic in the field. Wild garlic in the field would make the matzo treyf for Passover. You have to go and pick out the wild garlic. So he started researching both kosher law — what was it? Why is wild garlic in the field, it's natural? Why is that considered treyf ? What he discovered was that, from a biological point of view, wild garlic was an example of low sulfur content in his soil. He had an imbalance in his soil and, when he corrected the balance — by the way, by manure, by taking extra runs of his cattle through the spelt field — he corrected the imbalance and got rid of the wild garlic. And he made more money because he could go faster on the combine with the rabbi, and the quality of his grain was improved dramatically. Now he's given me many examples — I think that's a really good one — of kosher laws that seemingly have no reason to them. But, of course, if you research them and think about it, they have to be grounded in agriculture, in the proper agriculture that produces the best food and the best nutrition."
So you have this seemingly ridiculous rule canonized in religious law, that you can't have wild garlic in the field. Yet when you dig deeper you realize that without having any idea how to measure sulphur content then was a particular wisdom embedded in this ancient tradition that had lived on for so many centuries.
The big picture in all of this is that you don't always know what to measure, you don't always know where you're going, and sometimes (often?!) that is exactly when the best things happen.