I got to thinking about how much I use Google to answer questions the other day. My search activity calendar looks like this every month: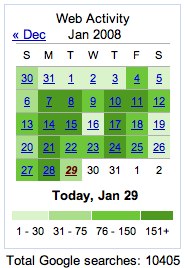 Even between Jan 1-3 when I was in Vegas I did 1-3 searches. Some months are even more heavy than this. So how much would I pay? I wouldn't have a problem with paying up to $1500/year to use Google. Maybe even more if I had to. It is THAT valuable to me.
How much would you pay to use Google?
P.S. I think the search history is super freakin' cool.
Update: Pam points out that the calendar is actually all web activity and not just search. Touché. That said, it doesn't change how valuable I think Google is to me. I'd still cough up the $1500.

If you like what's here, please follow me on twitter here.